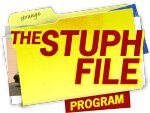 It was my pleasure to be the guest of Canadian broadcaster
Peter Anthony Holder
this week on his odd-news-and-talk show,
The Stuph File Program
.
We talked, of course, about my memoir The Accidental Terrorist, about how humor and religion mix, and about the relative merits of Mormonism and Canada. Peter is a charming host, and I had a great time doing his show. You can hear my 12-minute interview segment below:
Or you can listen to the full episode on Stitcher.
Full entry