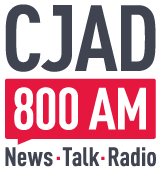 This past Sunday morning, I appeared on Montreal radio to talk about
The Accidental Terrorist.
Specifically, I spoke with Dave Fisher on
CJAD 800 AM
, whose program "
Dave's World
" is the most popular weekend radio show in Montreal.
Of course, it was a phone interview, since I'm not legally allowed to travel to Canada. But at least my voice can travel north of the border, even if my body can't.
A big shout-out, by the way, to the excellent writer Michael Libling, who brought me to the attention not only of Mr. Fisher but also of Peter Anthony Holder, who interviewed me last fall for "The Stuph File Program."
Listen to the CJAD interview below:
Crossposted from Inhuman Swill