Cast a Cold Eye, the ghostly novella I wrote with Derryl Murphy, appeared ten years ago as a limited-edition hardcover to exceptionally kind reviews. Now it's coming back to life as an ebook.
Cast a Cold Eye is back! It was a mere— Oh, good lord. Has it really been sixteen years since this project started?
Apparently so. According to my records, it was June 7, 2003, when Derryl Murphy dropped me that fateful email:
I've had this idea rattling around in the back of my head for few months now, but the starts have been all false, and a little voice has been telling me for a while now that I should contact you. You interested in doing a short story together? It involves photography and spirituality, sorta, which might make for a nice blend between us.
Except for one very short story almost a decade earlier, I had never collaborated, so I had some reservations. I honestly wasn't quite sure how to collaborate properly. But I decided to give it a try anyway—and I'm glad I did.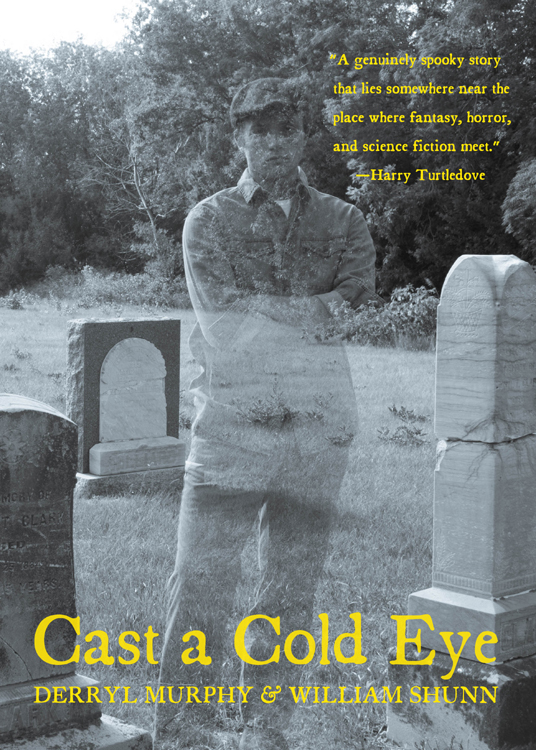 We hammered out a basic plot, based on Derryl's initial idea and some moody photographs he had taken of graveyard statuary. Then we started tossing the manuscript back and forth via email. Sometimes the work went quickly. Other times it languished for months while we both worked on other projects.
In the process, what was supposed to be a short story grew longer and longer. By the time we finished our final draft in 2007, four years later, we had a 24,000-word novella on our hands. That was a problem. There are only so many markets for a tale of such an intermediary length. We tried a couple of the major magazines without success. Ellen Datlow asked to see the manuscript and really liked it, but she didn't have a project going that it would work for.
Still, her enthusiasm gave us hope enough to prompt Derryl to send a query to PS Publishing in England. An acceptance soon followed. Two years after that, in 2009, our long-gestating story manifested in the form of a very beautiful limited-edition hardcover.
Actually, there were two editions of the book. One was an unjacketed hardcover, limited to 500 copies. The other was a signed, numbered, jacketed hardcover, limited to a mere 100 copies.
What's more, the book included a lovely introduction by Charles de Lint, who, among other kind things, wrote this:
The authors know how to tell a story. They have good narrative drive, they deliver strong characterization without a lot of exposition, and the supernatural elements of the story are inventive, building one upon the other. . . . Cast a Cold Eye is one of those stories that work on many levels. I've reread the manuscript a few times since I first received it, and every time I do, I find another layer waiting for me. It's past time for you to discover its treasures for yourself.
Well, the hardcovers sold out completely, and Cast a Cold Eye has only been available from used booksellers for most of the past decade—sometimes going for as high as $75 a pop! Clearly there are collectors willing to pay that much, and that's a fine thing, but Derryl and I are also interested in letting as many people as possible discover and read what we think is a pretty special story.
That's why Sinister Regard will be releasing Cast a Cold Eye as an ebook on July 30th, and that's why you'll be able to purchase a copy for just $1.99.
As we were preparing the ebook for release, Derryl reached out to several colleagues to see who might be interested in giving the manuscript a read. That's how this very nice quote from no less than Harry Turtledove came to appear on the cover:
A genuinely spooky story that lies somewhere near the place where fantasy, horror, and science fiction meet.
What more can I tell you to encourage you to preorder Cast a Cold Eye? Well, I could tell you that some critics compared it favorably to a certain other work of midwestern American fantasy. Here's something Paul Witcover wrote in his March 2010 Locus review:
Any fantasy of a certain ambition set in the American Midwest in the late 19th through early 20th centuries must reckon with The Wonderful Wizard of Oz, book and movie both, and Shunn & Murphy do so squarely, not only in the situation of their main character Luke Bryant, an orphan living with his aunt Maura (Auntie Em, indeed!) and uncle Roy, but in his perceptions—as the title, drawn from Yeats's epitaph, implies, perceptions, or ways of seeing, matter in this novel.
Believe me, Derryl and I were both more than a little bowled over when we read this. I mean, we hadn't intentionally riffed on Baum or the best-known film version of his work, but we also couldn't deny that the resonances were there. (I can't get into most of those elements without entering spoiler territory, but I will say that much of the magic in our book takes place in a photographic darkroom—"behind the curtain" as it were. And Paul wasn't alone in seeing these connections. John Clute also brings up the topic in my entry in The Encyclopedia of Science Fiction.)
Finally, if I haven't yet convinced you to preorder Cast a Cold Eye, I'd like to call out the evocative photograph Derryl created for the cover of the new edition. In another nod to Oz, he's gone black-and-white where our original cover artist, Steve Leary, went full Technicolor. Which do you prefer?
Me, I love them both. And I hope you'll preorder the ebook.  
Crossposted from Inhuman Swill