We had no idea that what we were really doing was a cover shoot for my memoir.
It was the late summer of 1987. I was stationed with my assigned mission companion, Elder Tim Bishop, in Bonners Ferry, Idaho. We lived rent-free in a small house owned by a local Mormon farming family. The house was a couple of miles outside of town, in the middle of a vast swath of wheat fields. The Kootenai River meandered nearby. Occasionally a moose would wander by or a bald eagle would sail overhead.
I'd been there since May, so I'd gotten to watch much of the growing and harvest process. At the end of the season, the farmers let us know that they would soon be burning the stubble of one of the fields, which would lie fallow the next year.
Even with advance warning, it was quite a shock when Bish and I, returning home in the late afternoon from a day of whatever missionaries do to occupy their time, spotted the smoke rising in the distance. Driving up the dirt road between the burning fields was a surreal experience, even with the greatest part of the fires having died down. It was so surreal, in fact, that we did exactly what you would expect from bored 19- or 20-year-old kids.
We pulled over, hopped out of the car, and started gleefully snapping pictures of each other posing with the fire.
As the decades passed, I did not forget about the fire. In fact, it makes an important cameo appearance in my short story "After the Earthquake a Fire," which will appear later this year (I think) in the second issue of the new online literary magazine Bloodstone Review. But I forgot almost entirely about the photos.
Earlier this year, I started playing around with cover concepts for The Accidental Terrorist. I wasn't sure I'd be able to afford to hire a graphic designer to make me a cover, and I have some facility when it comes to that sort of work, so I figured I would probably just do it myself. But the more ideas I played around with, and the more I showed them to family and to friends on Facebook, the more I realized I just wasn't getting it right.
Finally, looking for inspiration, I pulled out my box of old mission photos and started sifting through them. And that's when I stumbled across these: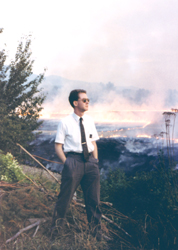 I knew I'd found gold. I scanned the photos immediately and started working on a new cover.
My first attempt used the photo of me standing with my hands in my pockets. That one seemed like a natural cover shot on the face of it, but as my wife pointed out it was a little too on-the-nose and sensational, not really representative of the content of the book. She suggested that something more symbolic might work better.
Still, the book is, in large part, about me and about the lives of Mormon missionaries. But it's also a history of the life of Joseph Smith, and it seemed to me like the cover should reflect that too. So after scouring stock image sites for an appropriate historical illustration I could license, I came up with the composite cover image below.
The focus now was less on me trying to look like a badass and more on a small, lonely missionary burning down a field with roots that reach down into Mormon history. There's your symbolism, right there. And what I didn't even notice at first is that a black smudge in the lower illustration (which I think is supposed to be a tree in the background of the clearing where the angel Moroni is showing the Golden Plates to Joseph Smith, Oliver Cowdery and David Whitmer), thanks to is positioning, really looks like a murky reflection of the missionary standing with slumped shoulders above.
Photo: Tim Bishop. Illustration: Everett Historical/Shutterstock.
This image is so perfect, in my opinion, that looking back it's hard not to feel like Bish and I, that day nearly 28 years ago, were knowingly staging a cover shoot for my future book. It's eerie.
And in a way, I believe it's true.  
Crossposted from Inhuman Swill